Are you ready to build a consistent yoga practice and develop your personal practice? If you are new to yoga and don't know where to start, this 7 day yoga challenge is perfect for you!
Each day, you will explore a new facet of yoga through practices that are designed for beginners but appropriate for all levels.
Why a 7 Day Yoga Challenge?
I have found that a 30 day challenge can seem really daunting, even for those who are not beginners. I mean 30 days is a whole month!
For beginners, I recommend starting out slow with a 7 day challenge. If you can tackle 7 days, you can tackle another 7 days, and then another. It's like the saying "How do you eat an Elephant? One bite at a time".
So rather than committing to 30 days of practice, committing to a shorter challenge sets you up for success.
And once you've shown yourself that you can do 7 days, you can challenge yourself to another 7 days!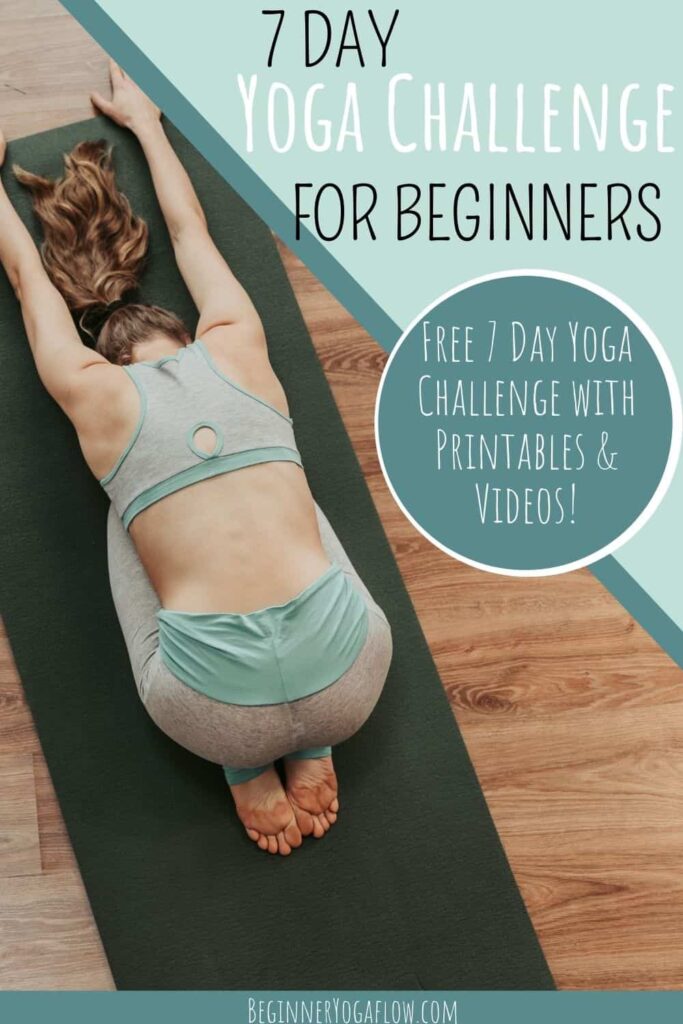 Before You Get Started
Before day 1, there are a few things you can do to set yourself up for success.
Put your practice in your schedule: Before you even get on your mat, look at your weekly schedule and find the best time of day to practice.
Create a space: Make sure you know where you will practice. Seems easy like a no brainer but sometimes we get on our mat and realize we can't connect to the TV in the room, or our props are in another room. This can throw you for a loop and deter you from getting to the actual practice.
Make yourself accountable: Whether you share it on social media or with a friend, find a way to keep yourself accountable for these 7 days. Telling people we are committing to a challenge can provide the motivation to keep on going! Check out this calendar to help you stay on track
If you're looking for more tips on building your at home practice, check out this article.
7 Day Yoga Challenge
Now on to the challenge! I've created this 7 day challenge sheet to help you stay on track. It also includes a place where you can comment and reflect on your practice that day. Download a copy here.
Don't forget to bookmark this page OR the 7 day youtube playlist.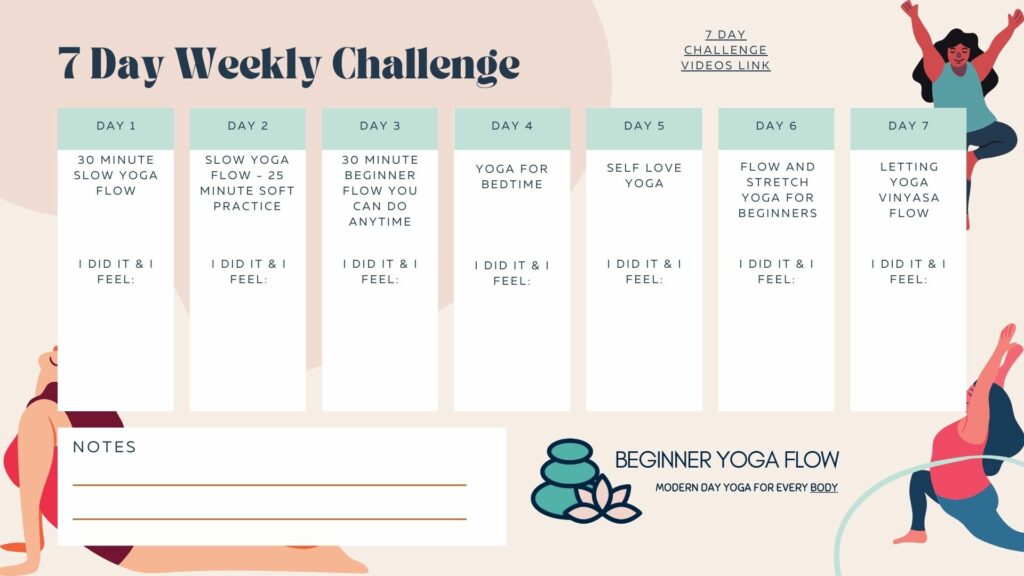 Day 1 – 30 Minute Slow Yoga Flow
We'll start off our yoga challenge with a 30 minute slow flow class. This is the perfect beginner class to start off with. We'll move slowly but will work on some strength and flexibility while being mindful of our bodies and where we are at.
Day 2 – 25 Minute Slow Yoga Flow
This is a gentle class that will keep us closer to the ground and allow us to relax and deepen into the pose. For this class, you'll find props to be helpful.
Day 3 – 30 Minute Beginner Yoga Flow You Can Do Anytime
This class is great for morning, noon or night! You'll enjoy a gentle warmup, some standing strength building poses followed by a relaxing savasana.
Day 4 – 12 Minute Gentle Flow
This is a great class to do before bedtime, but really this can be done anytime of the day when you are looking for deep calm and relaxation. This class is just 12 minutes and goes to show you that you don't need a long practice to get all the emotional and physical benefits of yoga.
Day 5 – Self Love Yoga
Show yourself some extra love to making it to day 5 of this yoga challenge with a self love yoga practice. This deep stretch and strength building flow will leave you feeling refreshed. Through this practice you deepen your connection with yourself.
Day 6 – 35 Minute Flow and Stretch Class
This class is just what you would expect it to be – a combination of longer and deeper stretches with yoga flow sequences built in to bring heat and strength into the body.
Day 7 – 25 Minute Letting It Go Yoga Flow
Congratulations! You've made it to the last day of this yoga challenge! Enjoy this 25 minute flow to help you let go of anything that no longer serves you. You'll end your 7 day yoga challenge even more grounded and centered.
I completed my 7 day yoga challenge….Now What?
Now that you have proven to yourself you have the time and capacity to practice yoga daily you can begin to deepen your practice.
Beginner Yoga Flow has many more videos that you can use to continue to build your daily yoga practice.
Videos range from 10 – 35 minutes and will help you explore your yoga practice in next and exciting ways.
And remember, our physical practice is just one aspect of yoga. You can also begin to explore the philosophy of yoga, explore pranayama/breath work, or meditation.